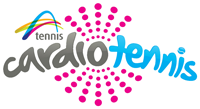 Ditch The Treadmill!
Cardio Tennis is Tennis Australia's brand new group tennis and fitness class where the emphasis is less on tennis technique and more about getting a great cardio workout, so it's perfect for people of any age or skill level. While Cardio Tennis still incorporates many tennis drills and activities, it's the combination of these drills with cardio bursts and aerobic exercise that gives participants a fantastic all-round cardio workout.
Set to high-energy music, Cardio Tennis also incorporates the use of heart rate monitors and regular heart rate checks to ensure participants are maintaining a heart rate in their ideal zone and are enjoying maximum fitness benefits from the class.
Cardio Tennis is truly the next big thing in group fitness and is sure to be just as rewarding as and much more enjoyable than a regular gym workout. Sessions run in seven week blocks for one hour each week.
Get ready for summer! Stay fit in between courses by enrolling in our 6-week Cardio Tennis Bursts
Enquire Now
Watch The YouTube Video
Upcoming Cardio Tennis Events
Sorry, there aren't any scheduled classes at this time! Please check back soon.