Services
Racquet Re-Stringing & Repairs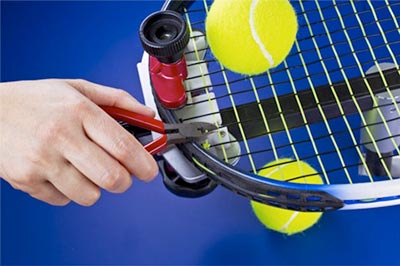 We offer professional stringing at an extremely competitive price in Sydney, We guarantee the highest quality racquet re-string service possible.
We re-string Synthetic and Natural Gut Strings and Hybrid stringing.
We gladly re-string at any form of tension you wish! Looser tension for more power or tighter tension for more control or in between for the best and most popular tension.
We re-string and carry the most popular strings in the market including Luxilon, Wilson & Polyfibre.
We would be even glad to give you advice of string to use depending on your game style and what you like to achieve on your game from power - spin - control.
Prices
Basic Strings | $40.00
Brands: Alinta / Jadee - Gauges from 1.20 – 1.30
Pro Strings | $55.00
Brands: Polyfibre / Wilson / Luxilon Gauges from 1.20 - 1.30
Turnover work time allow 4-7 days for pick up.
Express(2-3 days) pick up add extra $15.00
4 Easy Steps
Step 1 - Click 'contact us' and fill in your details.
Step 2 - Make payment - direct deposit details will be given on the reply email.
Step 3 - Hand in your racquet along with a note that has your name, contact number, desired string type, tension and when you need your racquet back on it.
Step 4 - SMS notification will be sent when racquet is ready to be picked up from the selected venue.
Contact Us